Cleaning out your inbox for your work email takes a bit of time, especially when you let things pile up. (Whoops!)
During this clean-up process, I came across an email thread between a working mother friend and me. The email message was from March, and you're probably wondering why I would still have that in my inbox. Well, a big chunk of the thread was about sex.
My friend, let's call her Sally, sent me a link to a blog post entitled New Study: Working Parents Too Stressed to Have Sex.
What? Yes, I was going to have to read this post right away.
Sally and I both agreed as working mothers we are both stretched and sometimes wearily look at our task lists. Neither of us is overly concerned about the state of our houses. Neat is good, immaculate is overrated – so we feel liberated in not keeping that front going. Sally and I live in different states and we have leaned on each other by sending text messages to help get us to the gym and applying some friendly peer pressure.
We both have leadership positions in our work organizations, and Sally feels a tad bit more stressed than I do in this area because she's in a male-dominated field. To combat this, Sally has contracted me to do some leadership coaching.
We agreed that sometimes we are overly plugged into work through technology, so we have been encouraging each other to have some "unplugged" downtime – such as dinner, exercise time, time out with friends, wooing the spouse moments,  cocktail hour, and bath/story time.
As we discussed this blog post, we were both patting ourselves on the back for being open and honest about the aforementioned challenges. We were thrilled neither of us were trying to wear a super-working-mother cape because that is not who we are trying to be. We want as much work/life balance as possible, thriving families, girls' nights out, and healthy relationships with our respective spouses.
Then Sally went back to this section from the article:
"This survey finds that despite successful careers, our work is impacting our personal lives in unhealthy ways.  Working moms, particularly those with young children, are exhausted and stressed by a workday that for many never ends because we are tethered to technology 24/7," Sachs said. "It's no surprise that moms who are toting buzzing BlackBerries in their bags chock full of work emails, can feel tapped out and not eager for sex. Stress kills the libido."  
Sally said to me,
"I'm not sure if I'm getting a gold medal in the bedroom."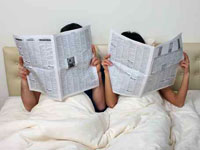 My response,
"Who said we needed to be Olympians in that area?"
This moved our email discussion to childcare challenges and how that does play into the on and off button of our libidos.
Sally has a full-time nanny and I have a full-time granny nanny (my mother-in-law). Sally does worry about her nanny getting sick or getting a better offer to work with another family. I have brief moments of worry that my mother-in-law may run off with a leather-clad motorcycle rider, but I'm sure she'd give me proper notice before she would leave her grandchildren.
If one of Sally's children (she has two) is sick, Sally typically misses work because her husband is a key player in his organization, so it's difficult for him to get away. If one of my kids is sick, my mother-in-law usually takes care of everything because (1) she ran an in-home daycare for many years, (2) she used to be an EMT (3) she raised three of her own kids and she knows exactly what to do, and (4) she is invested in helping my husband and me raise our children and not have to worry about childcare while we are at work.
Sally said she has considered having her own mother be a granny nanny, but she knows they could not live in the same house. I totally get that. I also know that multigenerational living is hard work and depending on how healthy that living arrangement is, a couple may or may not be going for the gold in the bedroom.
The wrap-up to my email thread with Sally ended with me saying, "Hey, you've got to set your own libido goals. Shoot for a realistic target and go for it. Don't listen to a study to tell you how often you should be having relations with your husband."
Sally's response,
"So you're saying I should take up archery?"
images

1

,

2