Written by my mother-in-law, G.B.
There have been several.  But they have never been just a machine.  Sometimes they are the means to a dream.  Sometimes they are strongly connected to memories.  And they from been there from childhood. 
My Grandmother's was a treadle machine.  You didn't need electricity.  You were the power.  On extended visits during my childhood, doll clothes were made on it.  Or failure was learned there.  It was a diversion between exploring her extensive flower gardens, sitting on the long kitchen counter observing the production of great desserts, or playing in the jewelry box.  And she had vast resources of material.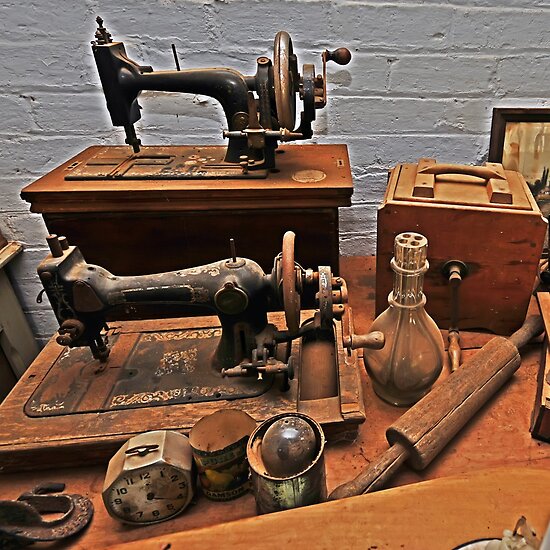 Another was my Mom's Kenmore.  It lived in a cabinet in the corner of the dining room.  It didn't zig.  It didn't zag.  But it sewed straight back and forth.  There were gadgets in the top drawer to make great buttonholes.
Of the four girls in the family, the oldest and youngest learned to sew.  Sewing was more of necessity then.  The 4-H sewing leader was fantastic.  That machine produced pencil skirts, sheath dresses, jackets and many, many patched jeans and overalls and one wedding dress, 2 bridesmaid dresses. 
A recent catalog advertized patched boyfriend jeans for $99.50.  And I thought , if my mom could have seen that ad.  Her patches were artistic in comparison.  Mom kept a tapestry on it that was a wedding gift in 1941.  That is folded in one of my boxes.
I bought my own portable in 1964.  Portable?  It weighed a ton.  It was not a favorite.  It was replaced by a Bernina in 1974.  It sewed countless sundresses, robes, shirts, costumes,  and quilts.  It passed on in 2005.
Now I only have a light weight portable that zigs and zags and does stretch stitches.  It has sewed matching dresses for granddaughters and robes for all the grandkids.  I made many memory teddy bears and celebration bears and bear playmates on it.  I have not purchased a serger or computerized machine. 
And in my space I also have a very old Singer.  I knew a man who repaired tents in WWII.  He raved about the machine he used and even owned one like it.  I asked him that IF he ever wanted to get rid of it to remember me.  No, but he volunteered to find one like it.  So I have a vintage gear-driven Singer that will sew through anything.  Out of its cabinet it wears a ton.  But it is cute.  It doesn't zig and doesn't zag.               
*** 
images

1

, 2, 3